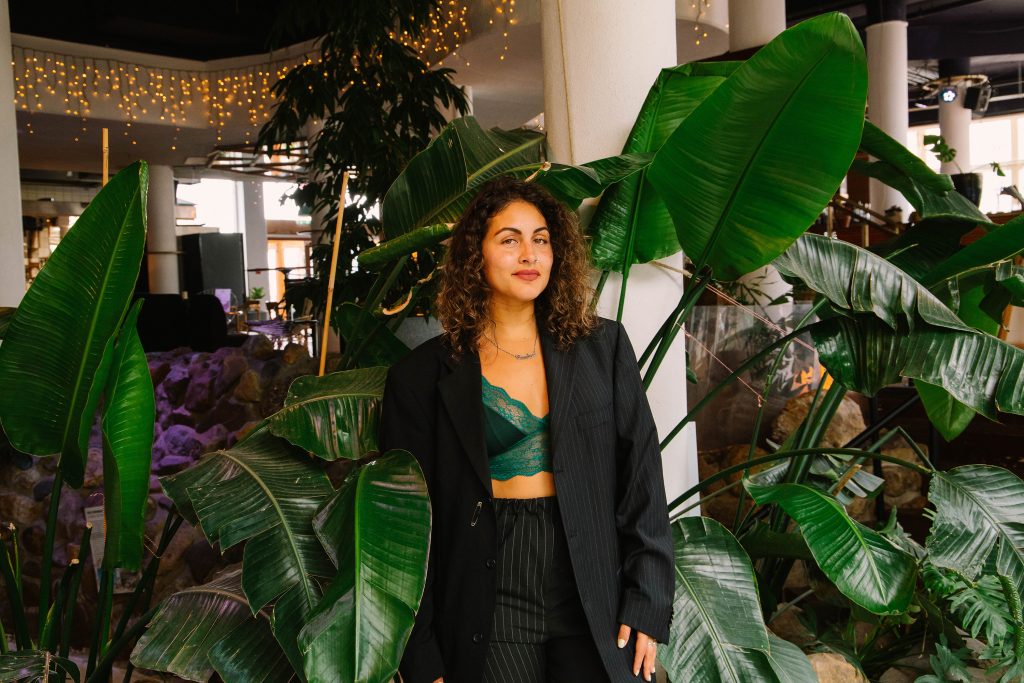 Sandra Zegarra Patow is a Peruvian artist currently graduated from IMD (Interactive Media Design) at the Royal Academy of Arts in The Hague. She has a deep connection with her Peruvian roots and composes images that are in poetic harmony with the odd. Through distorted bodies, dreamy patterns and out of nature colors she invites people to look into her mind.
Born in Lima, Peru in 1987. At the age of six she moved with her parents and her four year old little brother to Rotterdam, The Netherlands where she spent her childhood. In her free time she danced, record stories and made songs with her little brother. Straight after school she would go home to watch her 'novellas ' – one of the few possibilities to be connected with her South American roots. At the age of 16 she went to the Hofplein Theatre to learn acting, dancing and singing to become an actress. At that time she got a camera from her mother as a present. From that moment on she was getting more into photography. She realised that she wanted to do this on a professional level. She studied at the Graphic Design academy where she was allowed to skip a class because of her progress. After 6 successful years, she graduated from the Graphic Design Academy with an IMD Bachelor degree.
Artist Statement
I am Inspired by my Peruvian roots, I compose images in a poetic harmony of the odd. With distorted bodies, dreamy patterns and vivid colors, I invite people to look into my mind. With the Ayahuasca series I wanted to open a conversation about what people have in mind when they think of Ayahuasca. The experience of Ayahuasca happens when self-consciousness and awareness become able to draw clearer connections between thoughts, questioning emotions and human behavior. It gives you an experience of seeing the full picture of parts of our life, our relationships, our difficulties or problems, leading to insights about oneself and deeper comprehension of one's reality. I used the mental and physical transformation as a focus point to this series. Inez Naomi was the stylist in this project. With this series, I chose to use a lot of bright colors and graphical prints because it amplifies the visual story I want to tell. Constantly pushing the barriers of the comfortable I question the space we are used to seeing and turn it into a psychedelic sphere.
Education:
2006
Fotovakschool basisopleiding
Grafisch Lyceum Rotterdam
2004-2006
Graphic Design, Print Media and Photography
Royal Academy of Art The Hague
Photography
2012 – 2014
Interactive Media Design
2014 – 2018 

Exhibitions:
Tent Rotterdam                                          2 till 7th March 2019
The Grey Space in the middle
Strange Fruits in a Glasshouse – Exhibition & Club Night                                                                     1 June 2018
Pica Pica Zomerparade: Jeremy Garcia & Sandra Zegarra Patow                                                    16 June 2018
Showroom MAMA project mami.bricks                                                                                                      15 August 2017
Filmhuis Den Haag                                                                                                                                            31 Oktober 2016
Kids of the Industry (KOTI)                                                                                                                          April 2016
Cretopia at West-Kruiskade, Rotterdam
Café Cultura                                                                                                                                        November – January 2016
Blender                                                                                                                                                                January 2015
BAR Rotterdam                                                                                                                                                November 2013
Vief en Vuig                                                                                                                                                       August 2012
Rotown                                                                                                                                                               March 2009
Nederlands Fotomuseum – Las Palmas
Subject: Fairytales